Marriage Counseling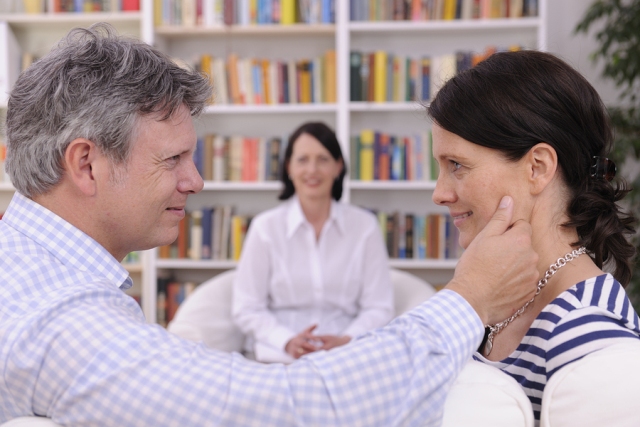 Marriage Counseling using Emotionally Focused Therapy (EFT)
Are you feeling fearful or uncertain about the future of your relationship with your partner?
Are you (or is your partner) becoming increasingly burned out or feeling detached from your partner?
Are you beginning to wonder if you can ever depend on your partner when you need him/her?
Do you want to get closer to your spouse but find yourself actually pushing him/her away instead?
Are you (or is your partner) becoming increasingly isolated and feeling you're losing connection with your partner?
Your relationship is not LOST or gone. Your emotions are leading you toward patterns of behavior, action and reaction that are no longer serving you (or perhaps even your partner). Your emotions may feel like "natural" responses to current situations but often, very often, they are not natural and they are not responses to current situations; rather, they are unconscious reactions to a fear of emotional loss based upon previous life experiences.
Emotionally Focused Therapy (EFT for short) can help. EFT has proven to be the strongest, most successful, empirically validated (proven) type of couple's therapy. "Whereas other forms of couple therapy have been shown in studies to be only about 35 percent effective in repairing relationships, EFT developed by Dr. Sue Johnson, has achieved a 75 percent success rate. Fully 86 percent of couples report feeling happier in their relationships, and results are long lasting." (Hold Me Tight, by Sue Johnson)
EFT is considered short-term (8-20 sessions) and allows us to assess what is going on in your relationship and identify appropriate change strategies and interventions. Together, we will look at change processes and predictors of success. You and your partner will come to an understanding of where you are emotionally in your relationship, patterns you've developed in your relationship that aren't working and how to change them, with the goal of developing higher levels of trust, intimacy, and satisfaction by way of an enhanced emotional bond with one another.
Marriage counseling using EFT allows patients to see what is really happening emotionally for themselves AND with their partner, separate the signals from the noise, and regain balance, safety and security in their relationship.